For preparing shortbread cookies you will need:
Plain Flour – 4-5 glasses
2 large eggs
Bicarbonate of Soda – one teaspoon
Sugar – one glass
Margarine – 250 g
Cinnamon
Cookies – the word I like the most! Today we can find endless number of delicious cookies' different recipes which are not so difficult. I usually use shortbread biscuit which we all can easily make by ourselves. That is why cookies are so popular in different countries! Today I'll describe easy recipe for making cookies with cinnamon.
Step one
For this step you need to prepare your bowl, eggs and sugar. You can also use caster sugar but I stopped my selection on usual sugar.
Break two eggs into a bowl and add one glass of sugar. Then you need to mix all the components together using a mixer or just a fork. After a few minutes, you probably will get this mass:
Step two
After getting mass of orange colour from eggs and sugar, you need to take a grater and grate the margarine. I grate it until I get small piece of it, after this I always use a knife to chop the rest of margarine that can't be grated because of the small size.
Step three
Add the mixture of eggs and sugar to the grated margarine. Mix all the ingredients together – for this step I usually use a fork. If I do it, I'm sure that I won't smash my egg mass all over the kitchen. Besides, you can easily avoid leaving the big pieces of margarine which are not so good for making cookies, especially small.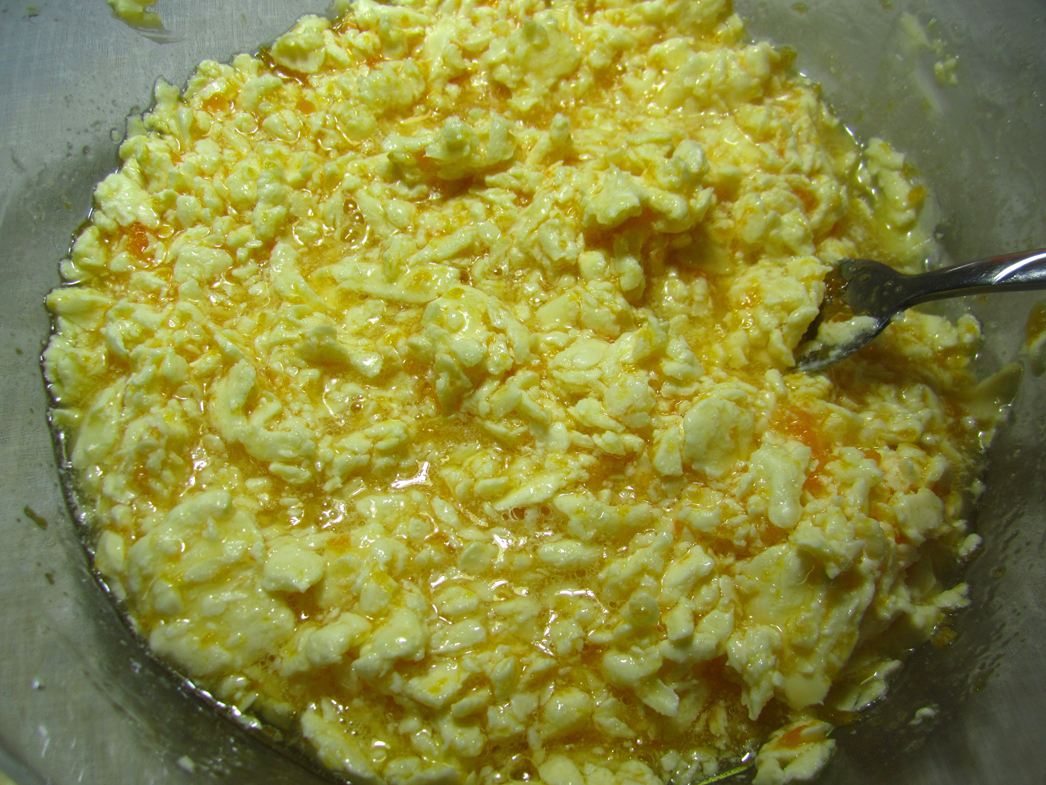 Alternatively, you can add some cocoa powder to make chocolate cookies, cocos, food colouring or natural food colouring. As an example, to make green colour cookies, you can add some Matcha powder. Here you can find out more about Matcha powder and tea which is one of my favourite drinks!
Step four
And we are on my favourite part of making cookies! All you need to do is to knead the dough. Keep mixing the mass, adding your flour. At the very beginning, I always add thin layer of flour, gradually adding more and more. This time I needed 4-5 glasses of flour to get a "ball".
Advice: How do I know how much flour do I need?
You will be always able to notice the quantity of flour you need for your cookies. Just keep adding it until you get a ball that doesn't stick to the bowl. After 10 minutes of kneading the dough, I got this:
Step five
So now we are going to create our cookies!!! You can give them a shape you want. I just created mini balls with diameter around 3-4 centimetres. Take a small piece of main mass and roll it between your hands to make a small ball. Then just put your hand on it and press it ( don't press to much ).
Notice: don't make your balls extremely big or too small – massive balls will definitely cook so long, and small pieces can just burn!
This is what I got:
Step six
Take a small bowl and put some cinnamon and sugar into it. Then just mix everything together. I'm not such a lover of cinnamon, I actually used to hate it, but the quantity of cinnamon I use for my cookies is according my taste preferences. You can use something else instead of what I use or add more and more cinnamon if you are obsessed with it.
Step seven
After getting your balls shaped, you need to take a pan and a foil with size of your pan. Cover the pan with a foil and put all your balls on it. Make sure they are not so close to each other because when we cook them, they'll be getting bigger and bigger.
Step eight
Take a teaspoon and strew your mixture of cinnamon and sugar on their top.
Well, I actually made a tiny layer of it but you can add more if you want to. I don't actually remember the exact number of cinnamon cookies I get, but I think it's around 60 pieces (diameter is 3-4 centimetres).
Step nine
Heat your oven to 180-200 °C and bake your cookies until they get light brown top (around 15-20 minutes).
Enjoy your cookies!