This post is going to have more creative theme describing beautiful and the most important at the same time world literature. It feels so good to find the book you love, to sit and read it, diving deeper and deeper. Then you just create personal world imaging the heroes, their feelings, problems, behavior and relationships with people.
I want to describe my favourite books and to represent some personal drawings.
Books
The Rubaiyat of Omar Khayyam
This is one of the best books from world literature – it's about life, about things that have never been described this way. This book is kind of wisdom that had been collecting through the years. It says we need to enjoy life, drink a good wine and fall in love with beautiful woman. This is the best translation by English poet and writer Edward FitzGerald who has actually saved all the meaning and beauty even if it was translated to the language different from the original one. It was so difficult because the main task of each translator was do not destroy the significance of the story.
The Old Man and The Sea – Ernest Hemingway
This is a good short novel about the relation between two different worlds – nature and human. Inner monolog of the main character Santiago tells us all the story mixed with his feelings whilst the main plot is on another plan. Santiago is a fighter who can't be defeated by the end. Some people are not agree with this fact – the main character lost the thing he's been fighting for, but! He found himself and grasp many priceless things, showing the humanity.
Best novels – Edgar Allan Poe
This book, which is actually been brought in our school library, has the best novels of an American writer. It contains short novels that make you think about your life. The most of the stories are Gothic style. Author open and described the hidden world of death, bad mental condition and all the "black style" people are always interested in.
My favourite story is "A Descent into the Maelstrom" about how one night can change man if he had chosen to survive. It's a short but very deep story about the human decisions, its world and constant desire to find the answers to all questions.
Next few books have been gifted me recently by my lovely uncle Robert Olds who is actually a book lover like me and nice guy who knows everything about anything!
Sherlock Holmes – Sir Arthur Conan Doyle
Literally the best book ever – even now famous writers can't create the art like this. I've read a lot of Sherlock Holmes stories before but in this book I found the new ones for me. It's very interesting to read, you just become a part of this book passing by the all obstacles with the heroes.
I've noticed that this book has many sketches so you can follow them with Sherlock Holmes, creating your version of current events or circumstances of someone's death.
The Maze Runner – James Dashner
Modern book, good film, heroes-fighters – what else we need? I'm obsessed with this book, you'd like to read something neutral and lite "The Maze Runner" is what you need. Exciting plot makes reading fast and easy – you don't need to read one chapter endless times to catch the whole point of it.
Of course, there are a lot of slang in dialogues which is a little bit difficult to understand if you read for the first time. But after a few chapters you start speaking like Newt or Alby.
Drawings
Well, I'm not good at drawing but at least I try to do it! Sometimes I just feel I need to take a brush, find some paints and draw what I want. I don't have any exact style so I just draw something undefined. And then I just take a look at it and guess what it is supposed to mean.
Relation between four worlds
For creating this kind of "piece of art" I just used my…fingers! I don't like using a brush often because I prefer making a contact between art and body.
Lost in space
Before drawing this painting I had known what I would portray. For creating this I used one brush large sized and a few colours of paint. I kind of mixed them together to get more mysterious colours.
Buddha
I created this in my school as a project in a group of students that love art and trying to make something absolutely unusual. The technique is called linocut which is similar to woodcut. For the first step we needed to buy linoleum and knives to be able to cut the form we wanted. Then we just put transfer ink on the linoleum that had been cut before. We didn't have to wait until it was dry, we just put the linoleum on a big piece of paper and pushed it well. I decided to choose the big one to be able to put it into the frame later. This is what I got:
It looks like the technique is very difficult, but it's actually not! You just need to be very careful with your knives when you create the image you want to have on your paper.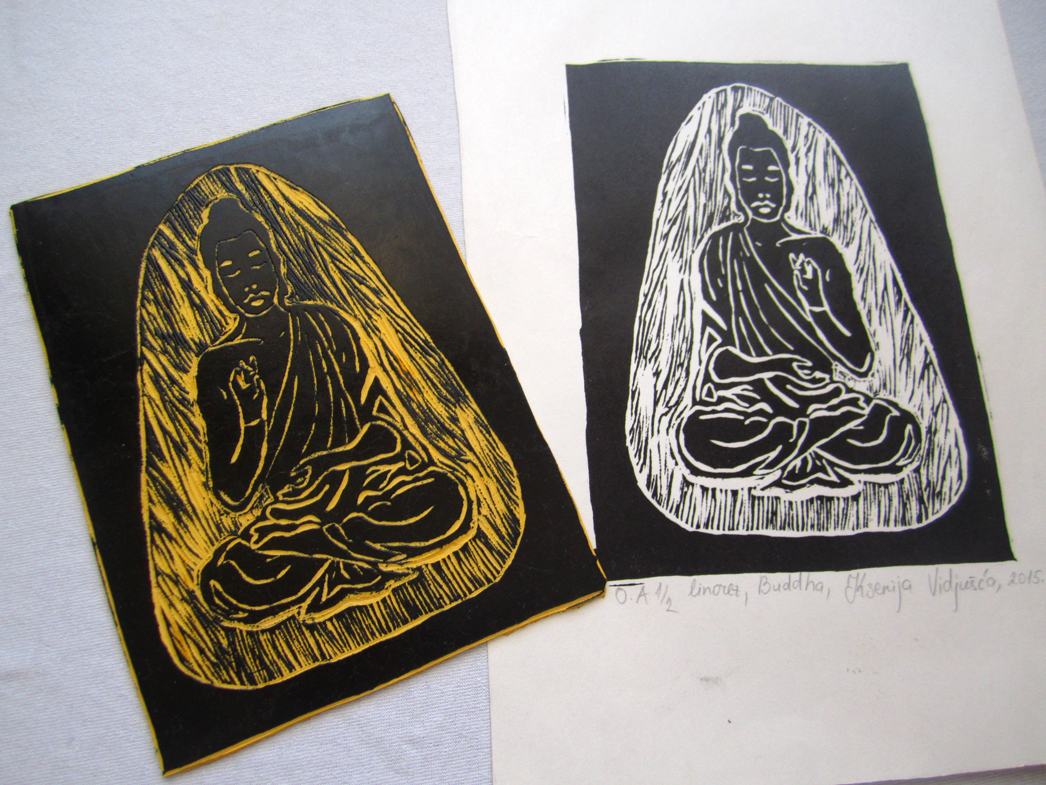 And the last one is actually not my drawing – it's a book.
I've started writing this book in August 2013 and I haven't finished it yet. This is story about unusual girl who is trying to find out her mission and the reason why she was born.
She found a few friends who were looking for the same answers and together they started their journey!
And quote
Thank you for your attention!