Pilaf is Asian food, and it contains lots of different spices – that's why I'm very obsessed with it. I wrote the easiest recipe of this dish that won't take too long to do and that'll help you to be able to appraise the Asian spicy cuisine.
To prepare the pilaf, you will need:
specific type of rice that's made for this kind of food – 500 g
meat. Basically, you can use any type of meat you prefer. In this recipe, I used the pork meat – 700-800 g
two big carrots
two big onions
three pieces of garlic
one bunch of garlic
4-6 Bay Leaves
salt
1/2 teaspoon of Caraway seeds
1/2 teaspoon of Black Pepper Powder
1/2 teaspoon of Chili Pepper Powder
1/2 teaspoon of Sweet Pepper Powder
1/2 teaspoon of Black Pepper in grains
If you like spicy food, you can change the recipe and increase the quantity of spices
Step One
Take the rice and wash it for 7-10 minutes to get rid of its starch. After that, put it in the big dish with thin layer and dry it up using a kitchen paper towel.
Step Two
Grate the carrots and chop the onions.
Step Three
Prepare the meat. Cut it into a medium size pieces.
Step Four
Heat the saucepan and put the meat you use in it. Add 1/2 teaspoon of salt and stir it well. You can also add vegetable oil later. Fry your meat until it gets gold. Pull it off the stove and leave. We'll need it later!
Step Five
Heat the pan and put the chopped onions. Add 1/2 teaspoon of Black Pepper Powder. Add the vegetable oil after 3-4 minutes. Fry it for 5-10 minutes to get golden (light brown) colour. Stir it every 2 minutes.
Step Six
When the onions are fried, add the carrots you've grated. Stir it all and fry for 2 more minutes. Then you can add the spices you prepared. Firstly, add your garlic pieces and Bay Leaves. Stir it all and leave for another 2 minutes. Then add the other spices to the mass and stir it again. Keep frying for 5-7 minutes.
Step Seven
This is a step where we need the meat we've made in Step Four. Take it and add the fried onions with carrots and all the spices there. Mix it all very well.
Step Eight
Take the rice and put it on the heated pan. Fry it to dry it up. You can add some vegetable oil if you need. Keep frying it for 5-7 minutes.
Step Nine
Add the rice to the mass we've made in Step Seven and mix it all using a wooden spatula. Fill the pan with water and add 1/2 teaspoon of salt. Add the salted water in the mixture you've made at the beginning of this step and put the bunch of garlic on its top. If the water doesn't cover the future pilaf, add some more but don't salt it. Make sure your water level is 1.5-2 cm above the main mixture.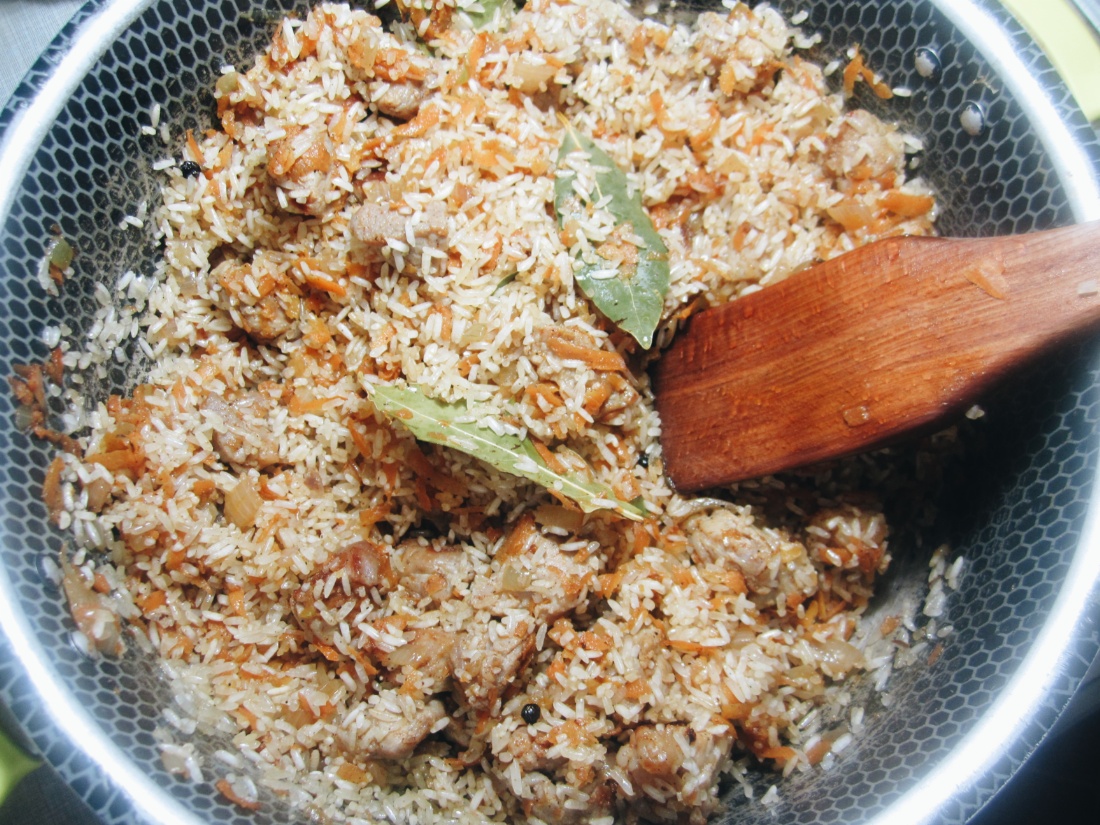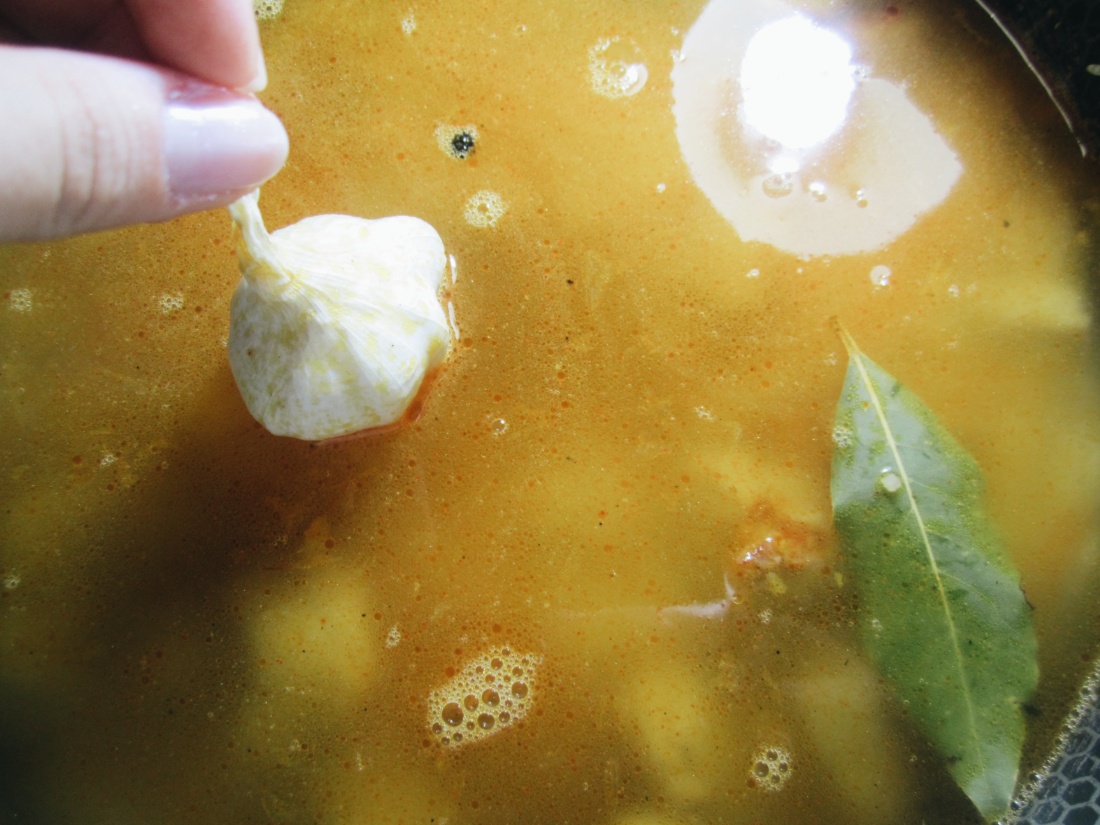 Put the saucepan with pilaf on stove and cook it for 30 minutes with low temperature. DON'T OPEN THE COVER WHILE IT'S COOKING! After 30 minutes you can remove it and check out the water level. If there's no water – the pilaf is ready. If there's water – leave it for another 10 minutes cooking with the cover on it.